In this Stand Up Paddling 101 online course, you'll get started right with step by step instruction on what to wear, which board to get and how to stand with confidence. You won't find this many in-depth videos in one place on YouTube.
Whether you want to paddle on flat water, or take on a new challenge, there are essential skills and knowledge to have fun, stay safe, paddle further and in more challenging conditions.
If you've struggled paddling before or think you just don't have good balance, you'll learn the basic skills needed to have fun, stay safe, and paddle efficiently.
In this Stand Up Paddling 101 online course, learn balance tips so you'll be more relaxed paddling, fall less and how to paddle straight
Unlike many quick start courses that set you up to fail, this course gives a true foundation so you can go out on the water with confidence.
Core Skills You're Learn:
Alternatives to standing up – Prone (on chest), sitting and kneeling
Step by step instructions for standing up on your board plus tips if you're having difficulty
Easy warm-ups for paddling and injury prevention
Falling is normal! Learn to fall safely
How to climb back on your board easily no matter your body type or board type.
Life jacket types from Vest style to waist C02s.
How to attach a leash and which to use
How to install a fin, and different fin types
Basic Inflatable SUP inflation and deflation techniques
Learn about different types of boards and board anatomy so you can purchase the right board
Paddling clothing for different types of water and conditions
How to paddle straight so you'll get there easier with less effort
Balance tips so you worry less and have more fun on bumps, boat wakes and more
How to launch from a dock safely (and return)
How to turn easily with a few easy methods such as the sweep stroke. Turn quicker!
Methods for carrying your board and how to easily car-top and secure the board
Board security and ding repair
Bonus Downloads:
Pre-Trip Checklist so you will be prepared and never forget anything
Prepare your car for paddling with a good car-top system, straps and a place for wet gear
Paddling Clothing – What to wear and when
What to pack for day trips
Plus..
Best apps for marine forecasts, tracking ships, determining tides and currents.
Make your first Stand Up Paddling experience a good one! Get the foundational skills needed to paddle on your own with confidence.
Your Instructor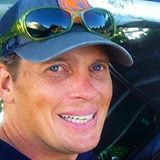 Non-athletic, dyslexic and lacking good instruction, like many, I struggled to stand up for the first time on a paddle board while vacation in Hawaii. Not willing to give up, I continued to work on it at home in Seattle. Applying skills learned from a decade in sea, whitewater and surf kayaking, I discovered effective methods for teaching SUP.
I'm the author of guidebooks "Stand Up Paddling Flat Water to Surf and Rivers" and "Kayaking Puget Sound and the San Juans." I also the co-founder of the Professional Stand Up Paddle Association (PSUPA) which provides worldwide SUP instructor training and certification.
I've also contributed articles and photos to Stand Up Journal, SUP Magazine, the Inertia and others.
I own Seattle based Salmon Bay Paddle which offers individual and small group SUP instruction in Seattle and the surrounding region.
SUP has changed my life and I love to share my passion with others helping them save time by avoiding my mistakes along the way!
— Rob Casey